How to install BOINC as a service (BOINC 5 series) on Windows?
From BOINC Wiki
Prerequisite: To install BOINC as a service, you need a Windows administrator account with a password. The service install is unavailable on Windows 98/SE/ME.
The following pictures are from the 5.10.45 BOINC installer. When you're using an earlier version, options may differ.
Start the installer by double clicking it as you would any program. The first screen shows up: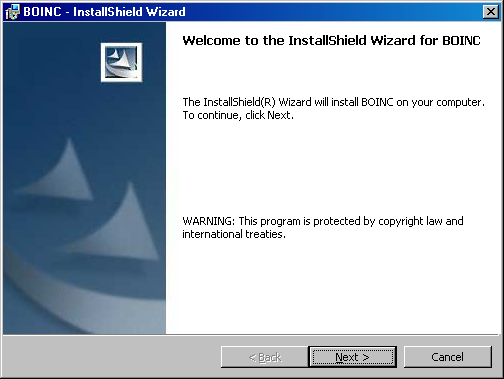 Click Next to continue.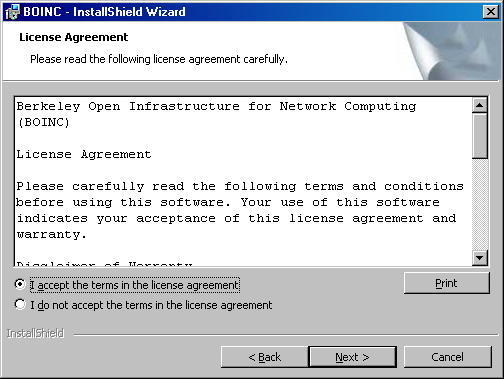 You must click the radio button for I accept the terms in the license agreement. before you are allowed to continue. Click Next.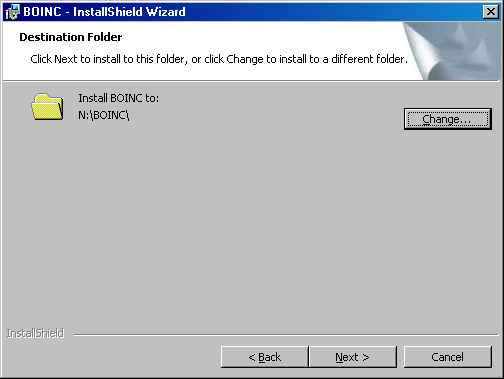 The install path is remembered from the last time you installed BOINC. If you don't want to change it, click Next.
The default link used is C:\Program Files\BOINC\
!!!! When you use Vista, do know that this OS doesn't like it when programs write to disk in the \Program Files\ directory. Since BOINC writes to disk a lot, it is advised to change the install directory to something like C:\BOINC\ !!!!
If you do want to change it, click the Change... button.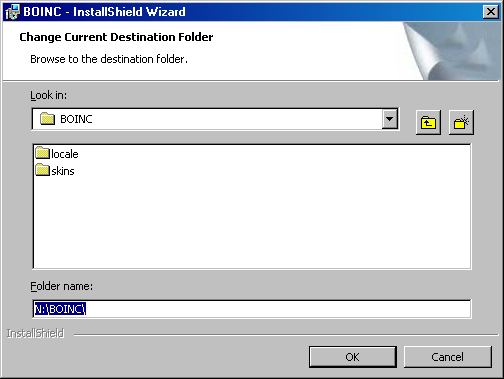 You will then get here, where you can change your path to anywhere else, either by typing it or by using the mouse to click your way to it. When done, click OK to return to the 3rd screen where you click Next.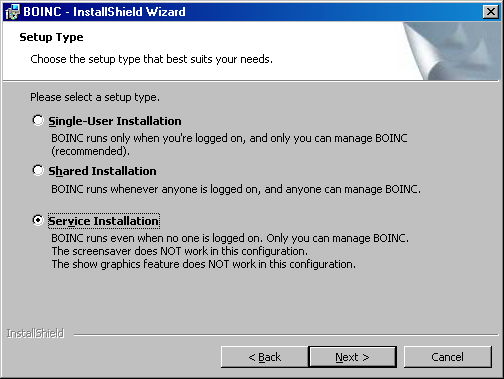 Choose option 3 to set the service install and click Next.
By default BOINC will give your computer name\account name already, but if it doesn't, add it in the top box here in the way shown, with the dividing backslash. Make sure there are no leading or trailing spaces as they aren't necessary anywhere in the box. Both the computer name and the account name are NOT case sensitive.
To find your computer name, go Right-click My Computer, Properties, Computer name tab.
Your account name is the name you started Windows with. To find it, go Start(->Settings)->Control Panel->Users and Passwords. The account you're using is shown first.
Fill in the password for your Windows account. Do know that the password IS case sensitive. You will not see the password you type, it is automatically obscured by asterisks. If you type in the password wrong, when you click Next you will get an error message.
If you want to enable the screen saver*, check the box. If you want to have BOINC Manager start up when you log into Windows, check the box.
Note that BOINC Manager starting up isn't needed with the service install, the service will start up before you log in into Windows. For a clean look, place a shortcut to BOINC Manager on your desktop or in your quick-launch bar.
Click Next.

Grant the selected username permission to log on as a service by clicking Yes.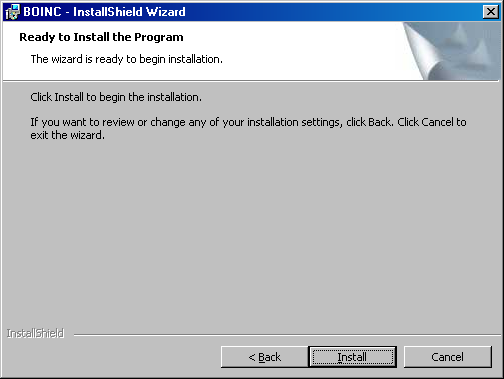 Click Install to continue.
From here on in, the installer will uninstall a previous version of BOINC if you had one and install the new version, then add it as a service and start the service for you. There is no need to reboot the computer.
If you want to use the graphics option on BOINC as a service, check this FAQ which explains how you do that.
(*) The screen saver is installed by default, but not active when you don't want it to be. To start the screen saver, go to the properties of your Windows Display, screensaver tab, choose BOINC as the screen saver. That's all.
| Original writer | Original FAQ | Date |
| --- | --- | --- |
| Jorden | 343 | 22-May-2008 |